4 Winds All My Relations is an Indigenous wedding officiant with services based in Niagara Falls, Ontario, led by Reverend Cindilee. Specializing in meaningful and spiritual wedding ceremonies, Cindilee is passionate about joining couples together in a sacred relationship, marriage and promise.
As a life and happiness coach, Cindilee is an expert in helping clients realize their true potential and accessing inner peace. She brings this same understanding and passion to every wedding ceremony, guiding prospective newlyweds through their engagement.
Every ceremony is a unique and one-of-a-kind celebration of the couple's individual love story and personality.
Reverend Cindilee Nokomis Migizinz
"I love working with couples on specialized wedding services, ceremony can be spiritual, religious and I work with you to embrace aspects of your ceremony to ensure a memorable celebration. Being married for 31 years, our ceremony was unique, encompassing aspects of me and the groom, family and friends still remember clearly the special day. Unique and one of a kind ceremony planning, this is the gift of working with you in planning your special day."~Reverend Cindilee
Zoom link meeting complimentary to get to know me and decide if you would like to work with me in planning your wedding day, special ceremony, and Rite of passage ceremonies. Ongoing support in working on the selections of the day, vows, order of ceremony, ensuring a stress free, flowing and day.
I offer various ceremonies, traditional, specialized, customized for you and memorable. Some ceremonies DO NOT have rehearsal, and can be simple vows from 15 minutes to more longer ceremonies (including various aspects, blanket, sand, water chalice, flower, rose ect up to 45 minutes in total)
Offering Officiating Services
Marriage, Wedding Ceremonies Below will take you to external link of 4 Winds All My Relations(c) for deeper explanation and payment routes
Officiating Ceremony Larger Wedding Ceremony
New Beginning Ceremonies
Rite of Passage Ceremony (Elder-Adult-Young Adult-Grandparent-New Parents)
Ceremony for New Beginnings (graduation, new home, adoption)
Celebration of Life
Resting Place Internment, Eulogy, Funeral Service
To book a free complimentary zoom meeting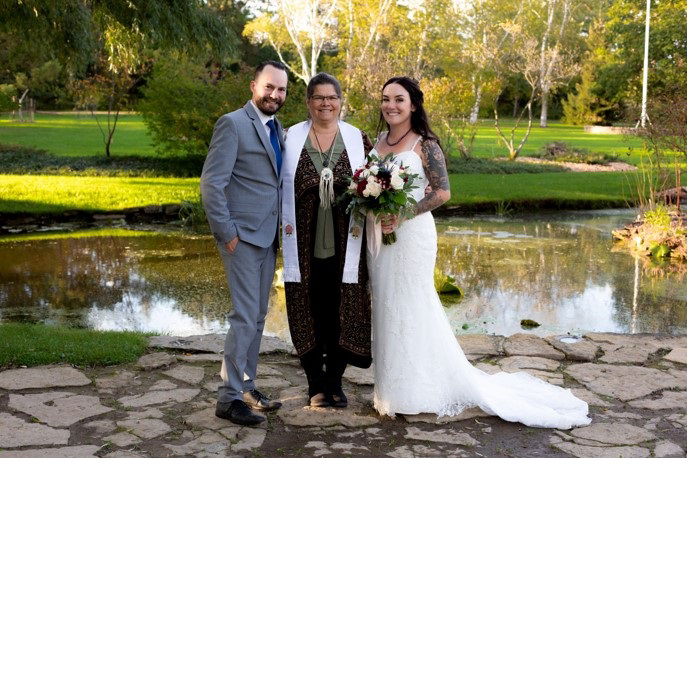 BOOK with this link YOUR FREE CONSULTATION WITH ME!
Complimentary, free and no obligation consultation to meet and to see if I am the right fit for ceremony day

I will draft each detail, ideas, vows selection of your ceremony

Provide you with a customized wedding document with unlimited revisions for a result to be exactly what you and your partner want

To share with you existing, traditional and custom vows, introductions opening and closing, blessings for your to review

I will complete the registration of your marriage in Ontario and posting and tracking of your registration for you

On the day of your ceremony I will arrive 45 minutes ahead to coordinate with the photographer(s) and videographer(s), mcee, to observe the positioning of registration table, microphone voice testing (set up blue tooth sound system)

I will retrieve from you your marriage license to complete the finalized document and marriage registrar